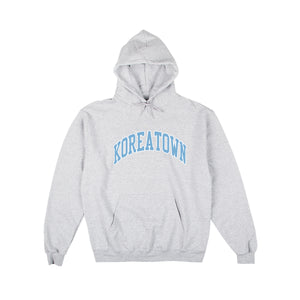 BEYOND EXCITED TO SHARE AND RELEASE OUR KOREATOWN ARCH LOGO HOODIE IN CAROLINA BLUE! 
PORTION OF THE PROCEEDS WILL GO TO @KIWA4JUSTICE WHICH EMPOWER KOREATOWN'S IMMIGRANT WORKERS IN LOW-WAGE INDUSTRIES FOR DIGNITY AND RESPECT IN THE WORKPLACE AND COMMUNITY. KIWA IS ONE OF FEW COMMUNITY GROUPS ORGANIZES BOTH KOREAN AND LATINO WORKERS. THEIR VISION IS TO BRING TOGETHER WORKERS, COMMUNITY MEMBERS, AND STUDENTS IN A BROAD, MULTI-ETHNIC COALITION. 
IMPORTANT ***DUE TO HIGH DEMAND AND SHIPPING CONSTRAINTS PLEASE ALLOW 2 WEEKS FOR DELIVERY***
FOR MORE INFO OR TO HELP DIRECTLY PLEASE VISIT KIWA.ORG. THANK YOU ALL FOR THE SUPPORT.