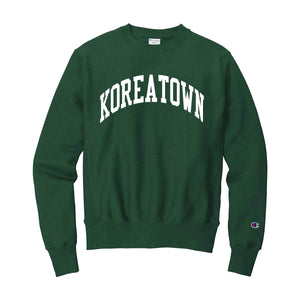 ITS HERE! HAHAHAHAHA! SO EXCITED TO RELEASE OUR THIRD KOREATOWN ARCH LOGO CHAMPION CREWNECK IN DARK GREEN FOR THE NEW YEAR! BIG THANK YOU TO OUR FRIENDS @TITITYSON & @JODECI_VEST FOR LETTING US TAKE PHOTOS. TIFFANY IS ONE OF MY GO-TO FRIENDS FOR ALL THINGS MUSIC. A MUSIC SAVANT IF YOU WILL. SHE CLAIMS SHES #1 AT BOWLING BUT REALLY IDK. DOM WEARS MANY HATS, BUT MAINLY ONE OF WHICH I THINK HE'S THE MOST TALENTED CREATIVE DIRECTOR I KNOW. THANK YOU GUYS! 
PORTION OF PROCEEDS WILL GO TO HWARANG YOUTH FOUNDATION, ONE OF THE LARGEST STUDENT VOLUNTEER FOCUSED ORGANIZATIONS IN KOREATOWN. HYF'S MISSION IS TO EMPOWER VOLUNTEERS TO SERVE THEIR COMMUNITIES, MEET HUMANITARIAN NEEDS, ENCOURAGE PEACE AND PROMOTE INTERNATIONAL UNDERSTANDING THROUGH HWARANG. 
THE HWARANG YOUTH FOUNDATION IS NOT JUST VOLUNTEER ORGANIZATION, BUT AN OUTLET TO HELP STUDENTS BECOME EFFECTIVE, POWERFUL, AND ACTIVE LEADERS OF THEIR RESPECTIVE COMMUNITIES. VOLUNTEERS HAVE BEEN PART OF SEVERAL ACTIVITIES OVER THE YEARS THAT INCLUDE PARK RESTORATIONS, PHONE BANKING CAMPAIGNS, MASK MAKING, TOILETRY DONATIONS, MONTHLY VIRTUAL LEADERSHIP MEETINGS, AND MORE DESPITE COVID-19.
TO DONATE/VOLUNTEER PLEASE MESSAGE @HWARANG_YOUTH_FOUNDATION DIRECTLY. THANK YOU ALL FOR THE SUPPORT!

 ***PLEASE ALLOW UP TO 2 WEEKS FOR SHIPPING DUE TO USPS CONSTRAINTS***