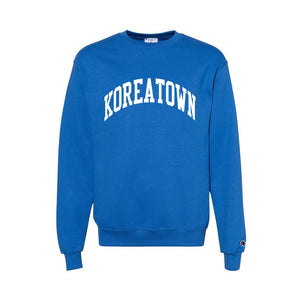 ITS HERE! STOKED TO RELEASE OUR FIRST KOREATOWN ARCH LOGO CHAMPION CREWNECK IN ROYAL BLUE. 
PORTION OF PROCEEDS WILL GO TO URBAN PARTNERS LA COVID-19 EMERGENCY FUND WHICH PROVIDES FREE GROCERIES FOR THE COMMUNITY OF KOREATOWN, DOUBLING ITS DISTRIBUTION SINCE THE FIRST COVID-19 AT HOME MEASURES WERE ANNOUNCED. @urbanpartnersla HAS BEEN PROVIDING FOR THE COMMUNITY FOR THE PAST 23 YEARS, DISTRIBUTING FREE GROCERIES TO 300-500 NEIGHBORS EVERY SATURDAY MORNING AT THE FIRST UNITARIAN CHURCH LOCATED @ 2936 W 8TH ST.
TO DONATE/VOLUNTEER PLEASE MESSAGE @urbanpartnersla DIRECTLY. THANK YOU ALL FOR THE SUPPORT!

***PLEASE ALLOW UP TO 2-WEEKS FOR SHIPPING DUE TO COVID-19 USPS CONSTRAINTS***